[Norbert] [Bridget]
Home Page of Bridget and Norbert
Welcome to our long-awaited home page! Visitors should find a good mix of Mediterranean and Central European culture, since I hail from the island of Malta, while Norbert likes to describe himself as a Bavarian. We are both avid travellers, both for work and pleasure. In 1995, I spent six lovely months in Okinawa, Japan, which houses the majestic Shurijo castle. Since February 2001, we live in the quaint village of Maisach. Maisach is about 30 minutes by train from the city of Munich in the heart of Bavaria.
Commonalities
We both studied computer science and work in IT. For some time we both worked in research, I at the University of Malta and Norbert at FORWISS, which is part of the TU München. Due to our background we met at a scientific conference in July 1998 on the isle of Capri.
Our common interest for business and social affairs is the reason for being active in Junior Chamber International. I have been a member of JC Malta since January 1997. It took little to convince Norbert to join JC Malta in 1999.
Other common interests include:
Sports: I need my 40 minutes morning jog to get me going. Norbert tries to go to the gym regularly.
Travelling: to Malta, of course, but JC conferences are also a favourite.
Wining and dining, occasionally even cooking.
Cinema, especially less commercial films. Wonderland is my current favourite and Norbert is an avid fan of Woody Allen.
Arts and jazz music.
Differences
But then we're quite different when it comes to some other stuff. Check out our webpages: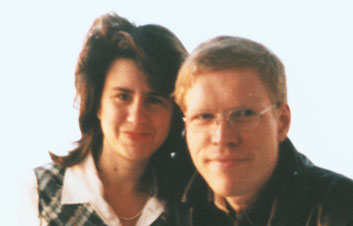 ---
Written by Bridget Dalmas. Last update June 3rd, 2001. This page had
visits since June 2001.